Niekedy sa stane, že v tom najvšednejšom dni stretnete človeka, ktorý s vami ostane po všetky dni vášho života. Niekedy sa stane, že v tej najnudnejšej knihe objavíte vetu, ktorú si napíšete na prvú stranu svojho denníka a niekedy sa stane, že náhodný animák vám vtisne do očí slzy tak, že tomu sami nebudete veriť… že aj vy sami ste kedysi boli deťmi.
Inside Out 2015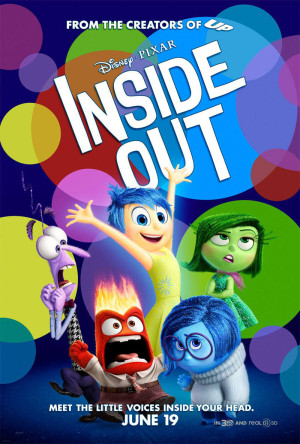 Nebudem písať o príbehu, lebo je lepšie, ak o ňom viete čo najmenej a keďže mal film premiéru už dávno, pravdepodobne ste ho už všetci aj videli. Ja som sa k nemu dostal až teraz a neide o žiadnu novinku, nedalo mi nenapísať o obrovskej originalite, kráse a smútku, ktorý film prináša. S tými, ktorým sa film páčil by som chcel zdeliť svoje dojmy a tým, ktorí film nevideli odkázať, že ide pravdepodobne o najhlbší PIXAR+Disney animák (spolu s Big Hero 6), ktorý je momentálne na tomto svete.
Niektorí ľudia vyzerajú, že sú stále šťastnými, no naozaj nimi nie sú. Niekedy sa zdá, že všetko je v poriadku a nič nie je v poriadku… a niekedy nám ani na um nepríde, že nás sused sa môže trápiť rovnako ak nie viac ako my sami a on sa trápi až tak, až…
Animák, svojimi farebnými zábermi plnými vtipu, však vraví o tom, že nič nie je len tak a že každá radosť ide ruka v ruke so smútkom a že nie je smútok bez radosti, akokoľvek banálne to zneje. A čo je najdôležitejšie – že byť smutný, je v poriadku, lebo práve smútok môže viesť k naším najdôležitejším životným okamihom-spomienkam, ktoré si budeme vážiť tak ako našu spomienku na našu prvú hru s otcom, alebo na tú s mamou, keď nám prvýkrát do školy pripravovala desiatu, zatiaľčo my sme si nervózne zaviazovali šnúrky na topánkach. Práve tieto myšlienky, bezcenné, bez individuálnej duše človeka, sú tým, čo tvorí tento svet takým akým v skutočnosti je.
V animáku Inside Out je jedna z najsmutnejších scén v histórii animovaného filmu. Moment, keď si imaginárny kamarát Riley BingBong uvedomí svoju prchavosť a rozhodne sa obetovať sa pre Radosť, má v sebe myšlienky, ktoré by závidel aj samotný Antoine de Saint-Exupéry, autor Malého Princa. Postava akéhosi ružového slona kríženého s bohviečím a delfínom vám zlomí srdce spôsobom, akým by ste si nikdy nedokázali predstaviť, že sa srdce zlomiť dá. Spomeniete si na to, ako ste ako dieťa si vytvárali domčeky v korunách stromov, stany na pôjde a misie, o ktorých ste vedeli len vy a … On. Spomeniete si na neho… a na chvíľu si nebudete vedieť odpustiť, že ste naňho vôbec mohli zabudnúť. Príde vám smutno… ale bude to sladký smútok, ktorý vám pripomenie všetky tie radosti, ktoré ste vďaka nemu v detste mali. Na chvíľu si ho uchováte v mysli a keď zatvoríte oči, znovu bude tam, usmeje sa na vás a povie vám, že vlastne nikdy neodišiel ale dával na vás po celý ten čas pozor. A znovu uveríte na anjela, ktorý vás brával na Mesiac. A vezme vás tam snáď aj teraz. Hoci možno poslednýkrát.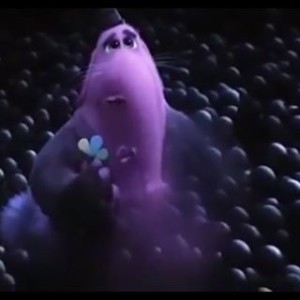 Take her to the Moon.
I will try.
I promise.
Film otvára mnoho iných úrovní, ktoré vás dojmú, rozosmejú, privedú k zamysleniu a uvedomeniu si toho ako veľmi si vážite svojich rodičov, priateľov a ľudí, ktorí vás majú radi a vy o tom ani neviete… na všetky tie iné momenty, myšlienky a scény vám však nechám prázdny priestor aby ste ich mohli objavovať sami, až si sami uvedomíte, koľkokrát vám práve Smútok pomohol dostať sa k Radosti.
S pozdravom,
dojatý MAROSBARAN